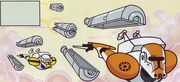 High Orbit Precision Entry Squad
, better known as
H.O.P.E Squad
, was a squad of
clone commandos
during the clone wars who specialized in rapid aerial entry, similar to Airborne Troopers. The troopers enter the atmosphere through the process of capsules to survive reentry and slow their downward momentum by opening an umbrella-like device upon the opening of the capsule.
Ad blocker interference detected!
Wikia is a free-to-use site that makes money from advertising. We have a modified experience for viewers using ad blockers

Wikia is not accessible if you've made further modifications. Remove the custom ad blocker rule(s) and the page will load as expected.