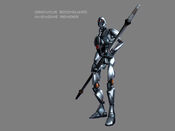 Magnaguards are an enemy seen in Star Wars: Republic Commando. They are harder to kill than the usual enemies encountered such as Trandoshans and Battle Droids, and may be as tough as a Super Battle Droid, if not tougher; they can take out Wookiees or even a seasoned Republic Commando easily. Magnaguards are always seen wielding electrostaffs.
What cause them to be notorious is caused by the way their electrostaff slows down reaction time of person's reflex.
Magnaguards in the Star Wars universe were not commonly seen on the front lines and are notable among fans as guards for General Grievous.
Ad blocker interference detected!
Wikia is a free-to-use site that makes money from advertising. We have a modified experience for viewers using ad blockers

Wikia is not accessible if you've made further modifications. Remove the custom ad blocker rule(s) and the page will load as expected.